Freelance To Millions Challenge: In Just 7 Days, Discover How I Moved From Broke To Millionaire Freelancer
Enroll Now! Offer May End Soon
click button to enroll or login to start course
Freelance To Millions Challenge: In Just 7 Days, Discover How I Moved From Broke To Millionaire Freelancer
Enroll Now! Offer May End Soon
join our 100s of students
click button to enroll/start course
7-Days Money-Back Guarantee!

🔥Discover The Secrets I Used To
Move From A Broke Church Rat To Earning Millions

Just By Selling Simple Digital Skills Online.
***
WARNING; Only Open To 100 Persons At A Time, Watch The Video Proof Below

Dear Soon To Be Millionaire Freelancer,
Do you want to finally start an online business that will surely make you money, help you become happier and more confident?
If yes, keep reading, otherwise, you're free to continue scrolling away on social media.
My name is Osazee Kelvin King, since 2014, I and my students have generated hundreds of thousands of dollars just by working online as freelancers.
Guess what?
Things weren't always like this.
At a time when everything was so bad for me, I could barely feed, my life was a complete mess, I was written off by most of my family members.
I was a like a rejected stone, but guess what?
…I promised myself I was going to make it in life.
I started learning digital skills, the first one I learned was content writing.
And before I knew it, I started making money.
I started generating an average of $1,000 per month writing just articles for clients in different parts of the world, America, Canada, United Kingdom, Australia, etc..
Long story short…
I moved from being unable to eat once a day to generating millions online… JUST BY SELLING SIMPLE DIGITAL SKILLS.
It's the same business that still makes me thousands of dollars online.

HOW DOES THIS STORY AFFECT YOU?
If you're anywhere near anything like I was many years ago, and you're looking for a proven business to make good money online…
The good news for you is that I want to teach you how to move from zero to millions with freelancing.
I want to pour out my over 7 years of experience into you…in the next 7 days.
Freelancing remains the best way for anybody to break into the online money making ecosystem.
The reason is because there are millions of people online with money in hands looking for experts to solve their problems.
You don't have to persuade or beg them, just have the skills, that's all.

Guess What? I've Not Just Succeeded Alone,
I've Also Trained Many 100s Of People

To Start A Profitable Freelancing Business From Scratch

Take A Look At Some Of Their Testimonies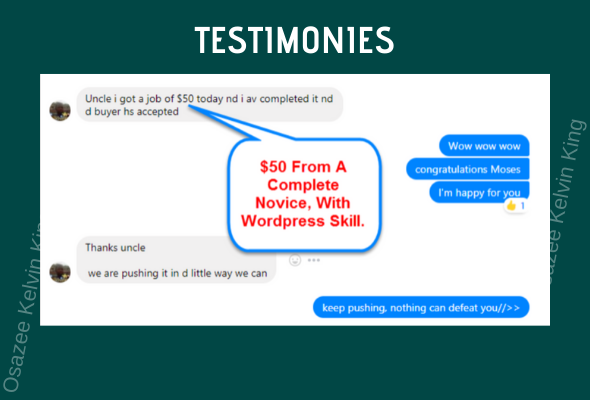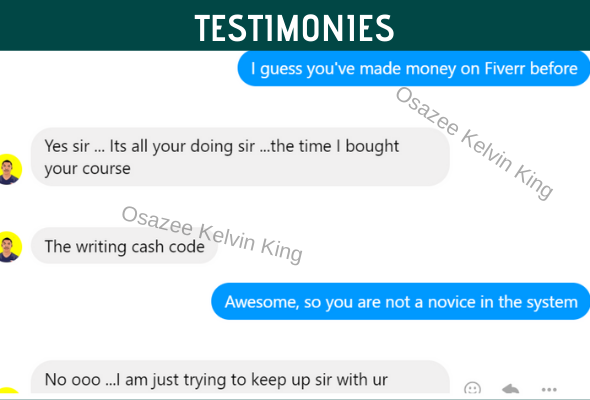 Introducing:
Freelance To Millions Challenge…
Where I'll teach you how to set up a profit vomiting freelancing business in just 7 days.

HERE'S WHY THIS IS CRAZY:
❌It doesn't matter whether you went to school or not.
❌It doesn't matter if you have no skills or experience.
I've done it since 2014, and I've trained several 100s of people who moved from being unable to feed to generating millions online and putting food on their table.
I've simplified everything, such that you can take my knowledge and experience and get results for yourself.

HERE'S WHAT WE'LL COVER IN 7 DAYS:
DAY 1
PART 1:
Introduction To Freelancing
How I Moved From Broke To Making Millions With Freelancing
Top Platforms I Recommend
PART 2:
Top Skills And Easy Skills To Sell
Where To Learn Them
Bonus Resources
PART 3:
How To Make Money By Promoting The Challenge
DAY 2
Fiverr Account And Gig Creation
Fiverr Account Optimization
How To Withdraw Your Earnings
DAY 3
Strategies To Getting Sales On Fiverr
Buying Reviews
External Promotions
DAY 4
Advanced Freelancing Strategies
DAY 5
Question And Answer
DAY 6
Progress Review And Optimization
DAY 7
Drawing The Curtains And Words Of Advice
Recommended Resources
As you can see already, this is not like an online course only, it's far more and better than that.

Here's why, at the end of the challenge, and with my extra week of mentorship, you would have achieved these:
✅Learned what freelancing is all about and how to get started the right way.
✅Discovered the top paying digital skills and the fastest ones you can learn and start offering to reach millions faster.
✅Learned effective methods to get paid to your bank account.
✅You would have learned my secret strategies to set up professional accounts and gigs on the freelancing platform I recommend.
✅Learned my strategies to getting clients to see and buy from you fast.
✅Learned my advanced freelancing secrets for bigger pay.
✅Gotten answers to your most pressing questions.
✅Gotten a review of your entire freelancing business, to correct any mistakes you're making.
✅Gotten access to some premium resources

As you can see already, this will be the best freelancing training you've ever attended online.
But guess what? It doesn't end there, I will also offer you mentorship support for extra 1 week after the challenge ends.
This is to ensure I leave no stone unturned for you.
And in the end of our power packed 2 weeks together, you would have everything you need to setup your own PROFITABLE FREELANCING BUSINESS.
TOTAL VALUE: N150,000
RETAIL VALUE: N25,000
SPECIAL OFFER PRICE: N5,000

You Have Nothing To Fear 100% Satisfaction Guaranteed
***
I can beat my chest that this will be a GAME-CHANGER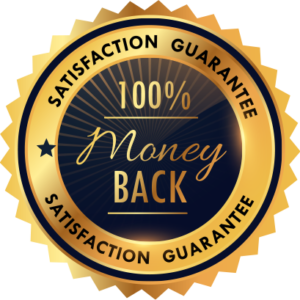 for you.
But if after our 14 days together, you implement everything and didn't didn't like the program, feel free to ask me for a full refund.
You'll get a full refund if I can confirm you implemented what you learned in the training.
So, you have absolutely nothing to lose.

THE CHOICE IS YOURS NOW!
Are you ready to finally start your journey to making thousands of dollars online starting this week?
.
Click the button below to join this challenge now – the next batch starts soon.
Starts 27th of this month or next as the case may be.
With love 💕
From Boss Kelvin Of Sabimentors
What's In It For You?
In Just 7 Days, Discover The Secrets I Used To Move From A Broke Nigga To Making Millions Selling Simple Digital Skills Online...
Who's This For?
People Who Are Tired Of Working Paycheck To Paycheck

People Who Want To Be In Control Of Their Finances
Requirements
A Smartphone / Laptop

Access to Internet Connection

Knowledge
Special Bonuses
Video Trainings

Mentorship

Premium Resources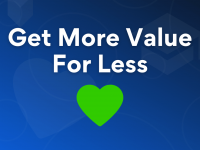 Course Curriculum
THE CHALLENGE GROUP
VIDEO TRAININGS
HOW TO MAKE MONEY BY DOING THIS
VITAL INFO FOR YOU
enroll now! offer may end soon
join our 100s of students
click button to enroll/ Login To start course
7-Days Money-Back Guarantee!
After you complete this training; you now have a brand new certificate and skill you can be proud of.
*
You can now use this skill for clients, business owners and make good money for yourself and your loved ones if you're like me who cares about his family.
*
How would life be for you by then? Happier? More Fulfilled?
*
That life is possible… take the course now. This is the right time.

Student Ratings & Reviews
No Review Yet
Sharing Is Caring.
Please Help Share!❤️
Frequently Asked Questions
enroll now! Offer May End Soon
join our 100s of students
7-Days Money-Back Guarantee!
countless testimonies
join us today
Getting this course from Kelvin is the beginning of multiple sales for your business... Worth every penny. My experience with him is a no brainer, he's always there to guide you and correct you 😁 to make sure you hit it hard .
This is an awesome course to have. I have bought this course and is packed with value. If you get this training you will never regret it. Full of value and mind-blowing.
Great job as always, boss. I appreciate all your efforts and kindness you put in your training. God bless you.
This course is valued packed, it's the best sales funnel design course I've ever bought online. The support I've received so far is priceless.
Delivered everything as promised and even more, excellent training and support. I'm happy to connect with an expert like you, lemme complete my training and I'm looking forward to success.
join our 100s of students
don't waste more time, go ahead and smash that enroll button now
your future will thank you for it, guaranteed
click button to enroll/start course