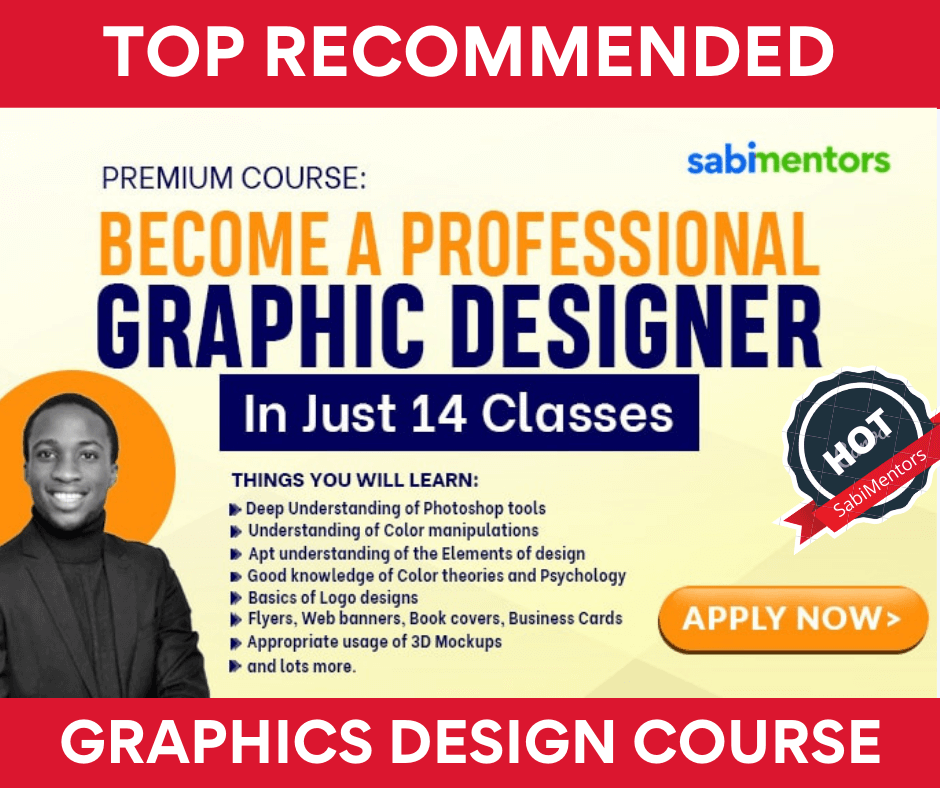 Finally! Everything You Need To Become A Master And Badass Graphics Designer Very Fast… Without Wasting Your Time And Money Online.
You'll Also discover my battle-tested and proven secrets to make big money from graphics design
GUESS WHAT?
Graphics design remain one of the world's highest paying digital skills – there's literally no web tool that doesn't need graphics.
Website, software, mobile applications, social media… they all need graphics to make them come alive.
And guess what? This is where anybody from anywhere in the world can profit massively from simple graphics designs.
I've personally seen graphic designers charge anywhere from N100,000/$200 for just a simple logo and a few social media graphics.
Imagine you could do that, how would life be for you by then? Happier? More Fulfilled?
You can do it.
INTRODUCING….
Design With Staitee: The Complete Graphics Design Mastery Using Adobe Photoshop
The Ultimate Simple To Follow Step By Step Graphics Design Online Course That Will Turn You To An Expert Graphics Designer In A Matter Of Days… Right From The Comfort Of Your Room.
HERE'S WHAT YOU'LL LEARN AND BENEFIT IN THIS COURSE.
Do you want to learn all the skills and techniques you need to create incredible designs Using Adobe Photoshop?
Are you intimidated by learning the rudiments of Graphic Designs using Adobe Photoshop and want to learn through practical real world projects? Then This class will be for you!
✅You will extensively learn about Photoshop tools
✅Color manipulations
✅Element of designs
✅Color theory & Psychology
✅Basics of logo designs
✅Creating flyers
✅Web banners
✅Book covers
✅Business cards
✅How to use photos in design
✅Appropriate usage of 3D Mockups design
✅AND MANY MORE.
In the cause of this program, you will learn the basic photo editing and manipulation techniques like how to cut objects out, duotones, changing color on objects, changing backgrounds of image.
And you will also learn how to create a simple logo of your own which will also be used on other designs such as Business cards, Flyers and web banners, all with your newly learned Photoshop skills as well as a book cover design project.
The section for Element of designs will open you up to understanding of the basic elements which constitutes beautiful and useable designs. In this section, you will be able to understand when to use a particular element and when not to.
Also, the Color theory & Psychology section will open up to understanding the right usage of color as pertaining to different brand niches and cultural preferences.
This course is designed to be simple and straightforward enough for new comers to design but detailed enough for everyone to get a LOT out of this course.
💪In addition to all these, I will also show you websites where you can get very high quality resources to enhance your designs, FOR FREE!
AS AN EXCLUSIVE BONUS…
💪I have also added some HD Images, Fonts, Mockups and PNG resources to get you started.
As you can see already, this is the ultimate training you need to become an expert and badass graphics designer in the shortest possible.
Stop struggling and running around in circles if you're serious – NO TIME!
If you're ready, CLICK THE BUTTON TO ENROLL NOW.