Discover The One Skill That Made Me $5,000+ Richer In Just 70 Days Working As A Freelancer On Just Fiverr Alone…
And How You Can Learn This Skill The Easier Way.
♥Watch Video Proof Of Over $10,000 Made With This Skill♥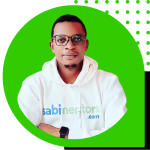 here's my short & true story of how i got this big breakthrough by accident
I will keep it short and sweet, I don't have the time to tell you long stories all in the name of sales copy…
This Same Skill Has Now Made Me Almost $13,000 Combined On Fiverr Alone – I Haven't Talked About The Clients I Get Outside Freelance Platforms.
I Haven't Talked About How The Skill Helps Me To Sell My Products On Autopilot… It's Crazy, I Must Tell You.
So, some few months ago, I decided to create a particular gig on Fiverr, after creating the gig, did some finishing touches, and implemented some of my secret strategies.
Fast forward to about 3 weeks later, I started getting flooded with messages, I was replying and BOOM! I got my first client for $150.
Guess what, this client paid me and still helped me to finish the work he paid for, lol
Within 48 hours, another $250 job came in from DesignPickle, yes, that was the company name.
Fast forward to about 3 months later, that gig had generated over $5,000 in revenue, $5,144 to be precise.
That gig was a sales funnel gig, at that time, I was just getting started with offering the service on Fiverr, my hands wasn't actually that strong, but I pulled it off, yaayy, I did it, even though it wasn't easy.
I was able to pull it off because I already had some years of experience with building sales pages.
But… right now, my knowledge on sales funnels is something else, I'm still learning everyday though.
My love for this skill pushes me to acquire new resources day and night, just to stay ahead.
You know why? We're in the era of sales funnels, think of it like the era of the gold rush.
Many marketers are abandoning their websites for sales funnels in order for their business to survive, and the good thing is… they need people like you to help them out.
This service has the potential to make our accounts fat and shapeless, wouldn't YOU want to join me on this journey?
If there's one thing I can tell YOU today, stop struggling with other low paying and less respected skills, use automation tools, think smart, think sales funnels – it's the future of digital marketing.
I Will Show You how to design funnels like these, clients will pay and love you for helping their business...
What MY Happy Students Are Saying?
Bros you finish work for this course o, Haaaaa. If person study this and doesnt make use of it, ba hun be say village peole dey true true. Kudos for the job well done.
You're doing a great job bro. I love the fact you're really passionate about the whole system. I feel more like it's a family business 😂
I build funnels myself but I must admit the course is loaded....bless u sir..love from Ghana
I've paid for several tutorials in the past, which turned out to be fraud, while others do not worth the cash spent on them. But for this, I call it, 'payback investment tutorials'. I will recommend my friends to you. Thank you so much!​
The writing cash code has been one of the Step-by-step eye opener tutorial I ever stumbled, and not just that Osazee Kelvin King isn't a kind of mentor who is proud or feels like a boss when u ask him some questions.​
As a novice in the writing niche, WCC having being guide to me. Right from setting of my account to order delivery in Fiver... I call it writing made easy.​
I have never seen tutorial as easy as writing cash code. It's a step-by step-do-it-yourself approach, free from ambiguity and unnecessary details.​
If you're interested in this RARE OPPORTUNITY, here's the CRAZY OFFER I have for you.
Get Access To The Funnel Profits Masterclass
I will give you access to over 67 Practical Step By Step Videos To Walk you through everything you need to design killer sales funnels and make good money with it!
Get Access To My Fiverr Profits Booster Course
Finally Get A Proven Blueprint To Help You 5-10x Your Fiverr Profits From A Man With A Great Track Record. Enjoy Up To 1 Year Of Dedicated Support(Priceless).
Get Access To Other Premium Resources
I will also give you access to some of my highly coveted premium resources I've acquired all over the years. This includes my personal courses, courses I've bought, tools I use, and more goodies.
With this, you'll Literally become limitless: you'll learn a highly profitable skill, and also learn how to sell it, isn't this amazing?
FAST ACTION BONUSES JUST LANDED
Order Now To Be Among Among The First 50 Persons To Enjoy These Bonuses(ENJOY ACCESS TO ALL MY OLD COURSES - THIS IS TOO MAD TO MISS OUT ON)
But You Don't Have To Pay That Much Today...
Get Everything For Over 80% Off!
Pay N12,500 Once Instead Of N25,000
Or Pay N6,500 Twice If You Don't Have The Full Amount Now, And Get Access Once You Complete Full Payment, Or Get Access To The Support Group And Module 1-3, Then The Remaining Parts When You Balance Your Payment.
You'll Make Your Investment Back With Just One Sale Of $50, And With My Program, That's Too Easy.
Don't Be Fooled By The Low Price! I'm Not Stupid, I Only Want To Help As Many People As I Could, Other Marketers Charge From N100,000 For Something Even Lesser Than This.
P.S: Stop Selling $5 Gigs, Upgrade Your Skills, Go For Sharks, Not Crabs, lol!
I PRACTICE WHAT I PREACH
AND I CAN TEACH IT AS WELL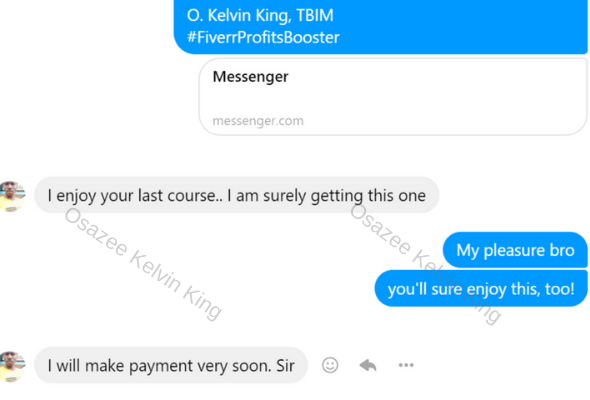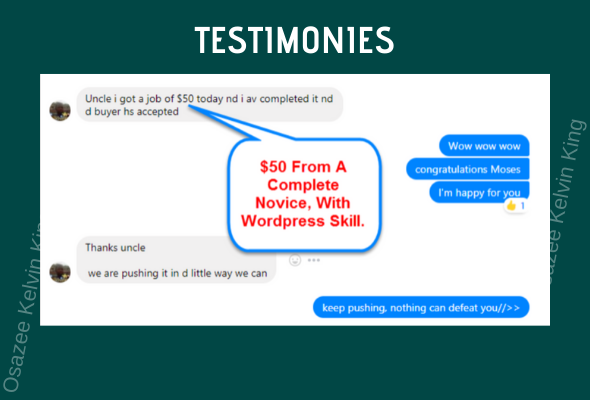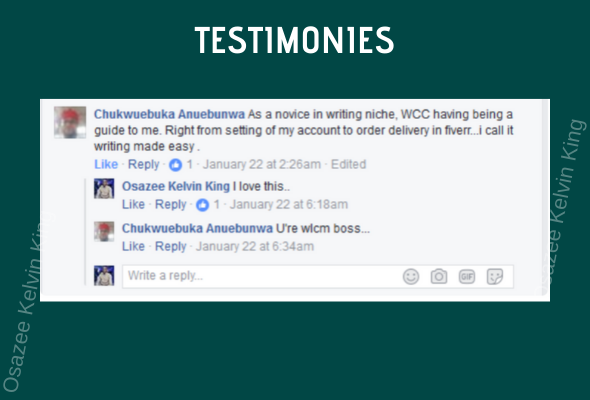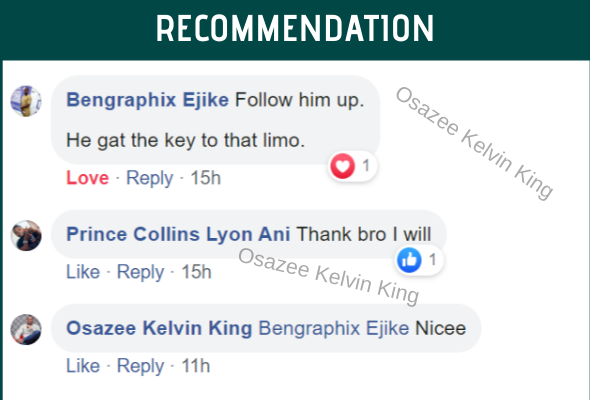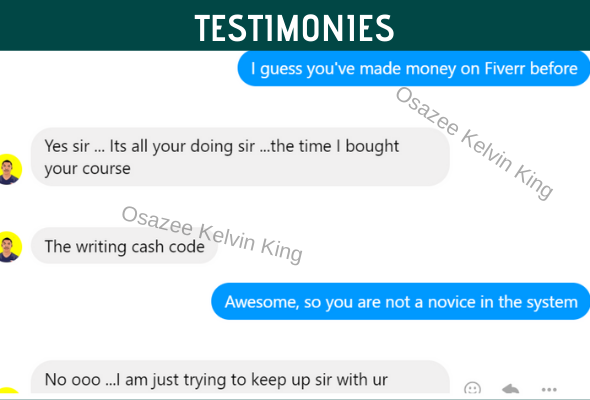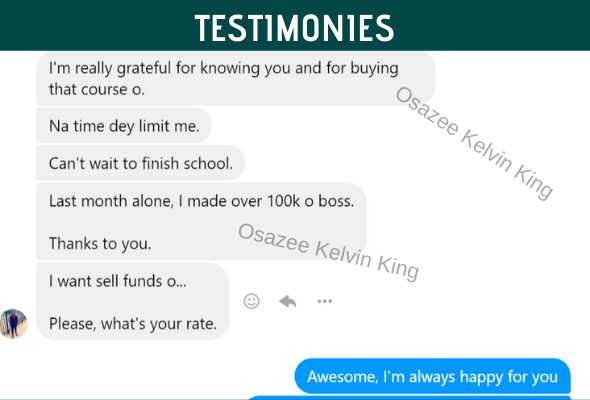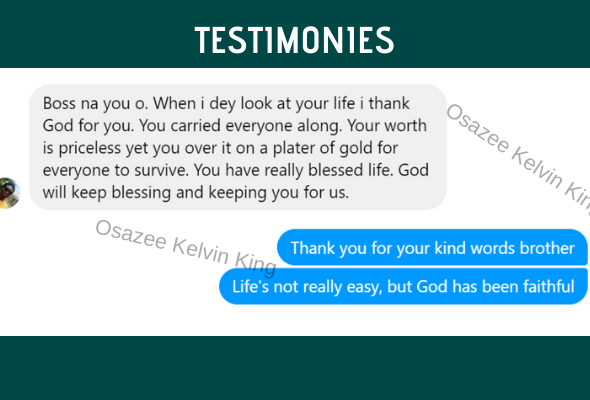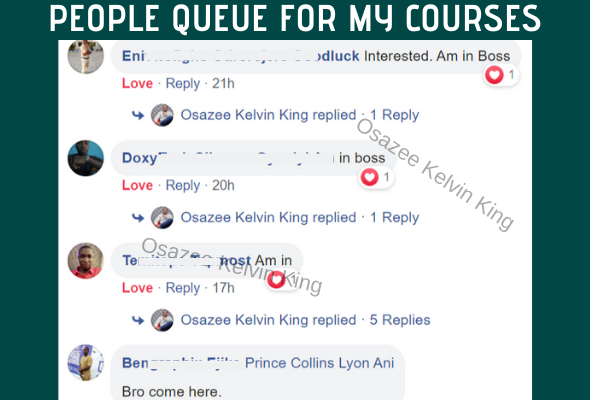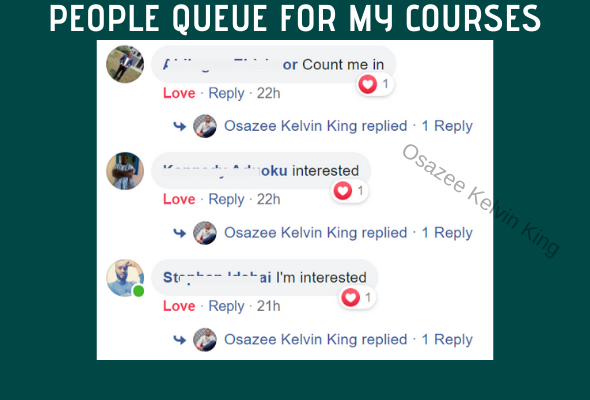 Do You Have Any Of These Questions?
Osazee Kelvin King is the CEO and founder of SabiMentors, Kelvin has been helping ordinary people make money online since 2015. 
He has created a few blockbuster courses, like The Writing Cash Code that taught a lot of bosses you know and respect how to make money online, some even made their first dollar online because of this course and his unrelenting support.
Kelvin King is an award winning internet marketer, he won the "Award Of The Best Internet Marketer Of The Year With A Unique Style.
Kelvin is passionate about seeing people empowered, that's because he once struggled to even eat.
No doubt, he's one of the few online marketers we can trust.