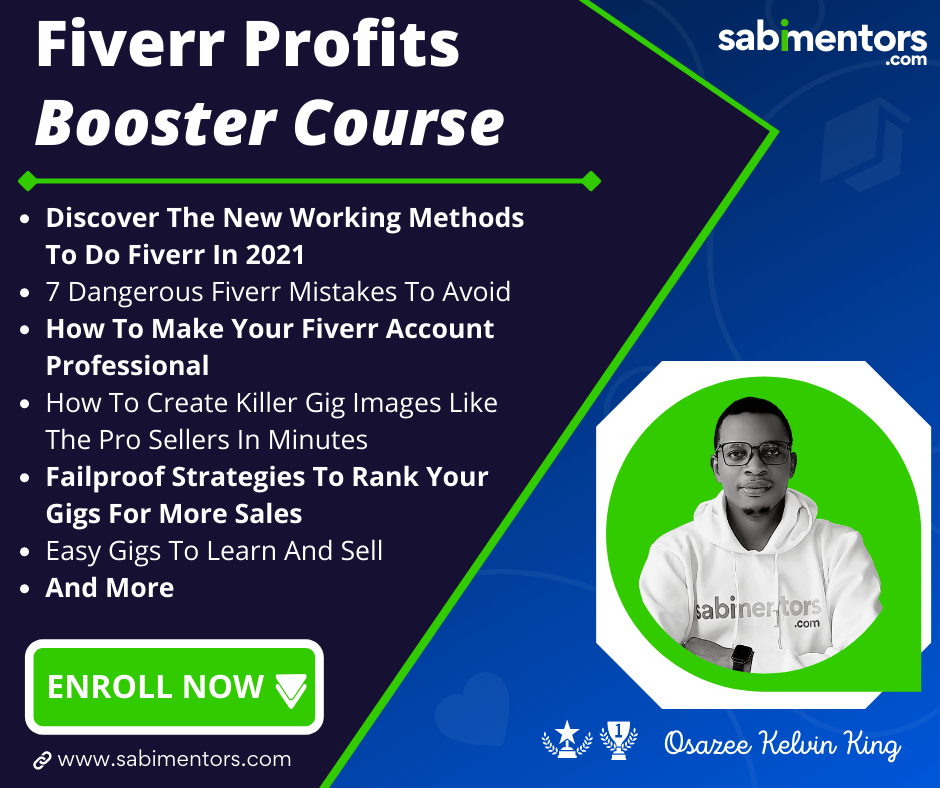 Finally! A Fiverr Veteran Reveals All His 7+ Years Of Hard Experiences And Strategies To Help You 5-10x Your Fiverr Profits In A Few Short Days Without The Unnecessary Struggles…
Why Should You Even Listen To Me Like My Other Students?
I learned most of what I know about Fiverr the hard way.
Trial and error-and more errors than I'd like to admit.
I created Fiver Profits Booster to make sure you don't have to make the same mistakes I made.
I've been there done that on Fiverr, but…
Guess what happened to me just a few years ago, my Fiverr business had come to an abrupt halt, my earnings declined drastically. I began wondering if I was under some spiritual attack, yes, it got to that point.
It was a terrible period in my freelancing career.
But I kept working night and day to find a lasting solution.
I believed there was something those getting it right knew and if I could just discover it, then all my worries would be over.
After some months, I decided to implement all I learned during those hard times.
It was shocking to see that my account started to pick up, I began to rank higher than my competitors, I began to get floods of messages and orders.
I was amazed, was I being lucky? I asked myself.
Then created another account and implemented my strategies on the new account, yet again, my account started growing, orders were coming in everyday.
Yes! I finally found the blueprint, and a larger percentage of students I've taught in the past still get results till this very day.
Today, I have 100s of successful students all over the country and abroad– See, it's not all about me, but I'm concerned with helping you transform your Fiverr business to continue printing money for life.
I can now boast of the ability of being able to create Fiverr accounts that can't fail to make money… You too can do the same with my proven blueprint…But Will Your Village People Allow You?