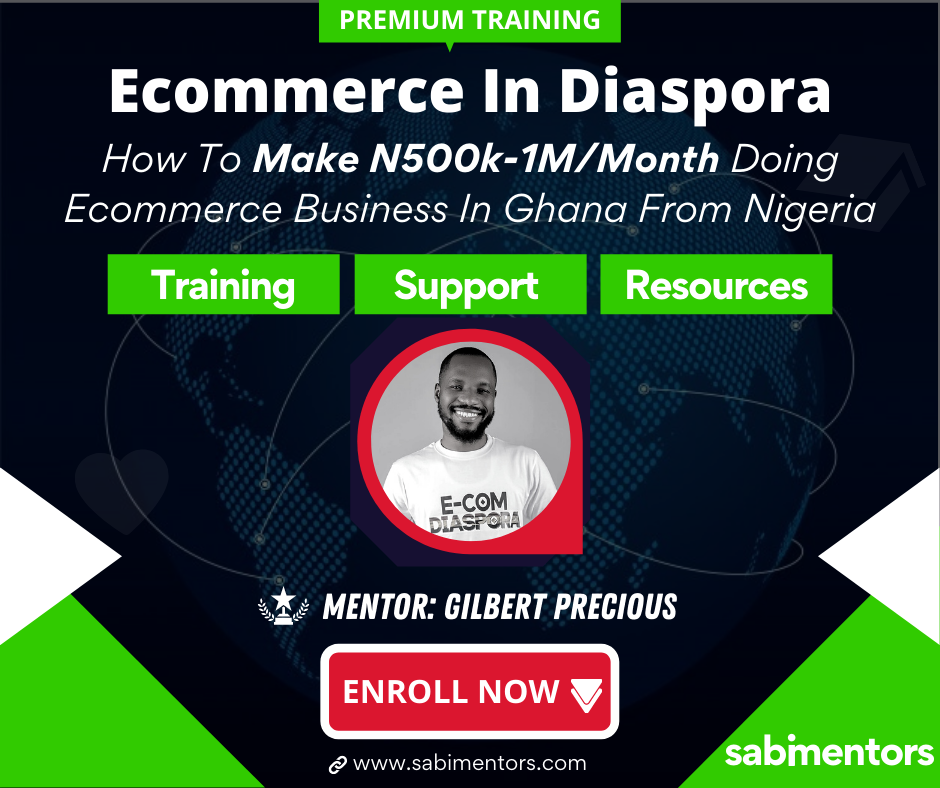 Brand New Training Reveals How Anybody Can Run A 500k-1M Naira Per Month Ecommerce Business In Ghana While In Nigeria

*******
❌Are You Tired Of The Stupid Hardships That Comes With Doing Ecommerce Business In Nigeria?
❌Are You Tired Of The Many Stupid Customers You Encounter Everyday That Cause You To Have Failed Deliveries And Heartache?
*******
If Yes, Then Introduce You To Ecom In Diaspora…
The ultimate training and mentorship that shows you step by step how to start a profitable ecommerce business from scratch in Ghana while you're in Nigeria.
Yes, with this system, you can easily generate 500k-1M much more conveniently… more easily than you could ever do in Nigeria.
If you've been doing ecommerce business in Nigeria, then you should already understand that Nigerians have become very difficult to sell to.
❌Too many bad behaviors from customers
❌Too many failed deliveries
❌Too many headaches
This isn't the case with Ghana, because the people of Ghana seem more civilized, I can't really say why, but that's the difference.
See, if you want to enjoy ecommerce like never before, take your business to Ghana, period!
Take a look at testimonies from some people who have gone through this course and achieved success.
Justin's Testimony
Fortune's Testimony
Nanabo's Testimony
WOULD YOUR TESTIMONEY BE THE NEXT???
As you can see, this system works and it will work for you, no doubt.
HERE'S A FRACTION WHAT YOU'LL LEARN IN THIS COURSE:
✅The ONE reason why Ghana market will make you more money than Nigeria. (The news always publicize the opposite to scar away foreigners from leveraging this opportunity)
✅How to Easily Check Your Bank Exchange Rate So You Know The Exact Rate You're Paying With (Good Way To Track Your Spending)
✅Clueless on what to sell? You'll find the kind of products Ghanaians are ready to empty their wallets for in video 3
✅Four things you must consider before you buy ANY product in Ghana to sell (Miss even one and you can kiss your money goodbye)
✅The key to finding good product is creativity, right? WRONG! In the first 20 minutes, you'll learn why you never want to rely on creativity & I'll TELL you what to do first, before you'll start selling products Ghanaians love
✅How to quickly find out if people are actually going to buy your product before you pay the supplier for it.
✅How to trigger the right emotions that make people patronize your Ecommerce business (This one trick made me over 1 Million naira in 3 days early this year)
✅You'll also learn how to use the Sneaky Competitors Radar to get product gaps. This alone will make you get better sales very fast…
✅The only advantage you need to conquer the Ghanaian Market.
✅Want to know exactly what to say so even broke Ghanaians can borrow to buy your products? You'll find that too. Flip straight to video 6.
✅The mostly reserved ancient hypnotic tool I use to convert total strangers into serious buyers who will even recommend your products to friends and family and even their ex
✅Discover The WORST method to get products that sell like CRAZY. (Thank God, everyone else is making this mistake). Use these unusual methods revealed in the course, to become the CONQUERER of the market.
✅Start using this Fire-brim Follow Up Mechanism" which makes your products absolutely irrefutable to your customers (and they'll beg you to deliver ASAP)
✅What you MUST INCLUDE in your website to increase the BELIEVABILITY of Outcome of your product so more customers will rush you– Ghanaian Lawyers use this trick to win cases a lot.
CRAZY BONUSES INCLUDED FOR YOU:
💪MY HOT PRODUCTS SECRET FORMULA
(N50,000 VALUE)
In this business of ours, there's nothing more important than picking up a "hot product".
A product is the single most important bridge to your biggest break.
A single hot selling product can print you millions all year round… You'll discover how to get endless hot products in the course.
💪FACEBOOK ADS TRAINING
(N50,000 VALUE)
Fail at Facebook Ads… and you'll end up stocking products without selling them.
While Facebook Ads isn't a straight jacket stuff, I'll show you the basic best practices to creating winning Ads that bring in hundreds of buyers daily.
💪KILLER SALES FUNNEL SETUP
(N50,000 VALUE)
There's a special Ecommerce selling system we use in our inner cycle. Now this is something you've never seen before.
It's the way top marketers in the world use to sell their products.
💪VERIFIED CONTACTS OF GHANA SUPPLIERS
(N50,000 VALUE)
One big FACTOR of this Ghana Ecommerce business is suppliers. Not just suppliers but trusted suppliers with dignity.
Once you lay your hands on these suppliers, your work is done. I'll give you all the suppliers I'm currently using in my own business so you have a load of them to work with.
TOTAL VALUE: N500,000+
NORMAL PRICE: N150,000
But all yours for the RIDICULOUSLY LOW PRICE you see on this page currently… but you've got to act fast.
*******
So, if you're ready to stop struggling with ecommerce business in Nigeria and want to finally have a taste of what it means to run a sweet ecommerce business, then this course is a must for you.
You owe your happiness to yourself, but your family depends on you for their happiness, don't fail them.
Smash the enroll button now.
*******
P.S: E-com Diaspora is a comprehensive and complete program on starting and growing a PROFITABLE business in Ghana selling ordinary products for higher profits.
It takes you from the very basic level. Short straight-to-the-point videos. No fluff.